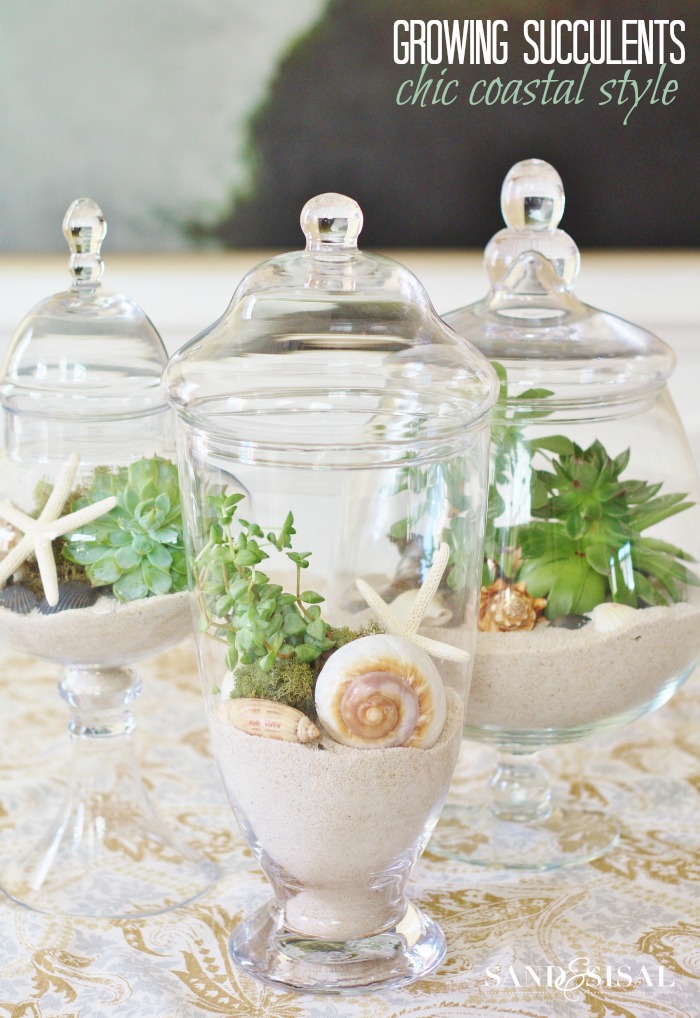 It's January once more and freezing outside! This beach girl despises cold weather! So needless to say, January and February are my least favorite months. I call them the winter blues month and here is why…
The holidays are over. The house is stripped of all the festive, pretty greenery of the Christmas trees, wreaths and garlands and now looks plain and boring. My hair is darkened and looking lifeless and my skin is pale as ghost. Both the house and myself could use a big dose of vitamin D, sunshine, warm weather and some new fresh greenery to help remind me that spring is coming… eventually!
So in lieu of doing something crazy each winter to freshen my appearance like dying my hair dark (my children didn't recognize me)….
or cutting it short (I think my husband cried)….
or giving myself bangs (oh my, huge mistake…never again, I cried),
I resort to the next best mode in winter blues therapy…. indoor gardening!
The easiest of all indoor gardening (minus the artificial plants) is Growing Succulents.
Succulent Gardening is perfect for any of you who are self proclaimed brown thumbs! And today I want to share with you how to make a pretty centerpiece or display by Growing Succulents in Glass Apothecary Jars , but in a chic coastal style.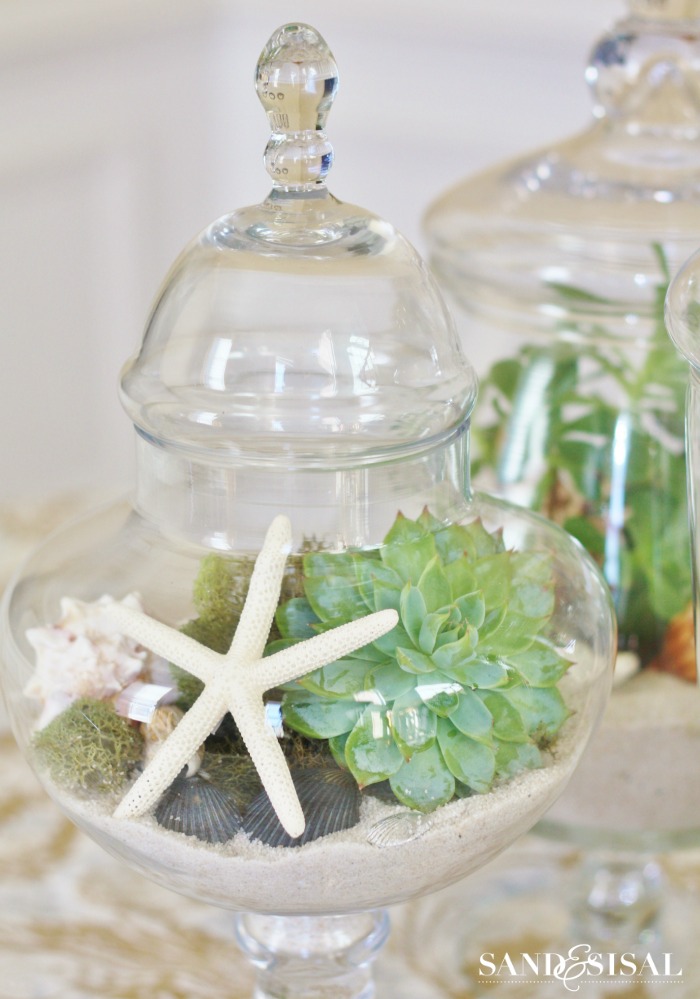 You will need the following items for Growing Succulents in Apothecary Jars:
JARS & SAND
The first thing you will need are a few apothecary jars and clean sand. I like using Pool Filter Sand for all kinds of coastal crafts and projects (it can be found at any pool supply store or click the blue Amazon affiliate link above to order). It is free of any salt, is very white and fine. You can also use Craft Sand but I find it to be more expensive per pound.
Simply fill up each apothecary jar with sand by about 1/3.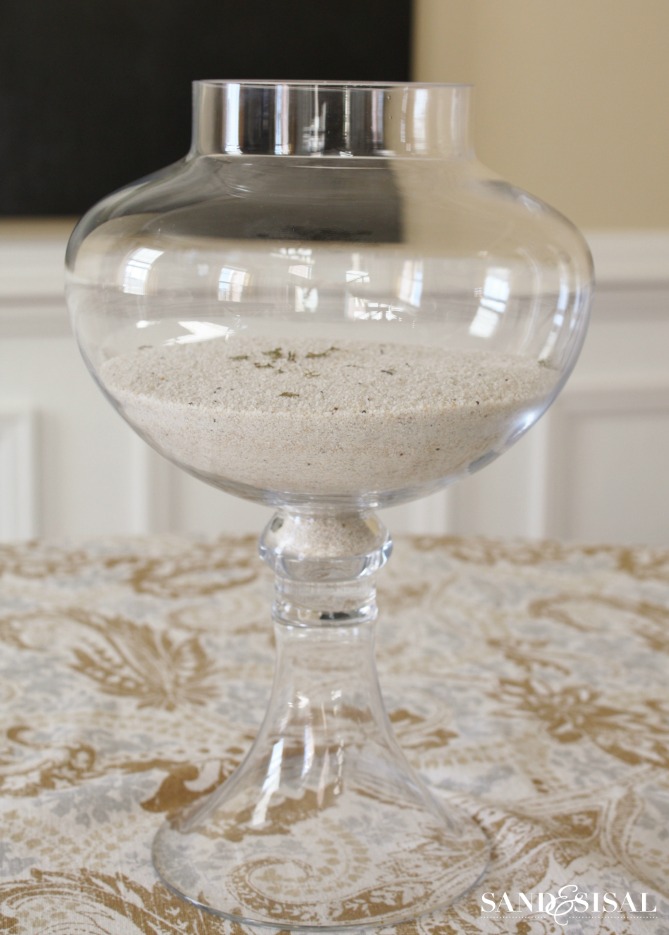 SUCCULENTS
Next you want to have a variety of succulents. I find most of my succulents at Home Depot or Lowes in tiny pots for just a few dollars each. I water my succulents about once a month or a little longer in the summer and every 3 weeks in the winter, when there is less humidity in the air. To water them, I place them all in a large bowl of water for 5 minutes, just to ensure they get a nice drink.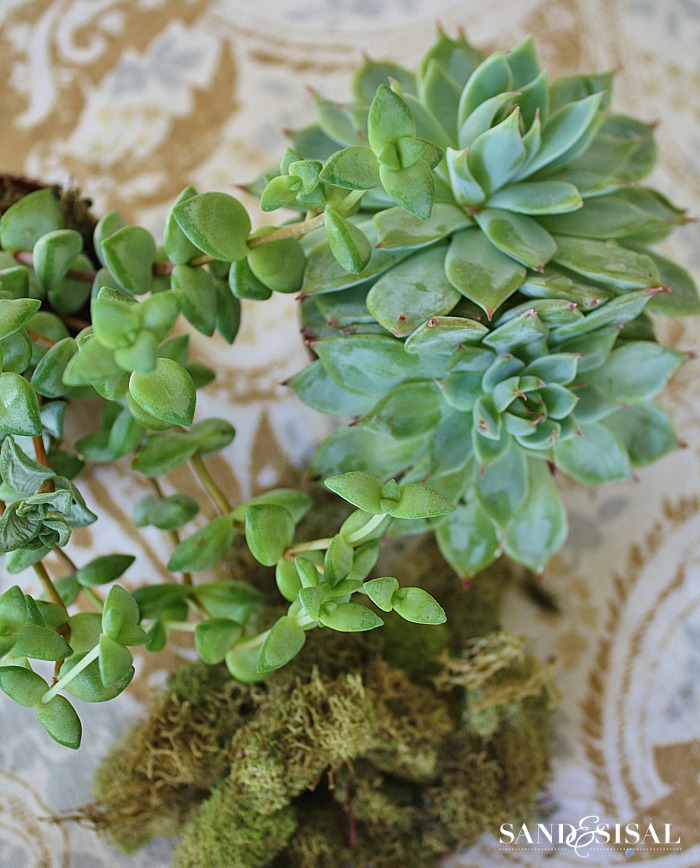 GREEN MOSS
You will also want some green Moss . It comes in bags and is moist when you take it out. If it is dry, then soak it in water for a minute or two and it will brighten up and become soft and fluffy once more.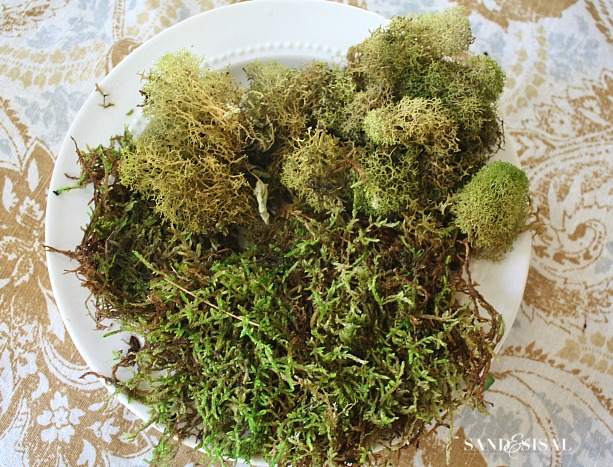 SHELLS
Gather sea shells, Starfish , sand dollars, sea glass, etc. for decorating with.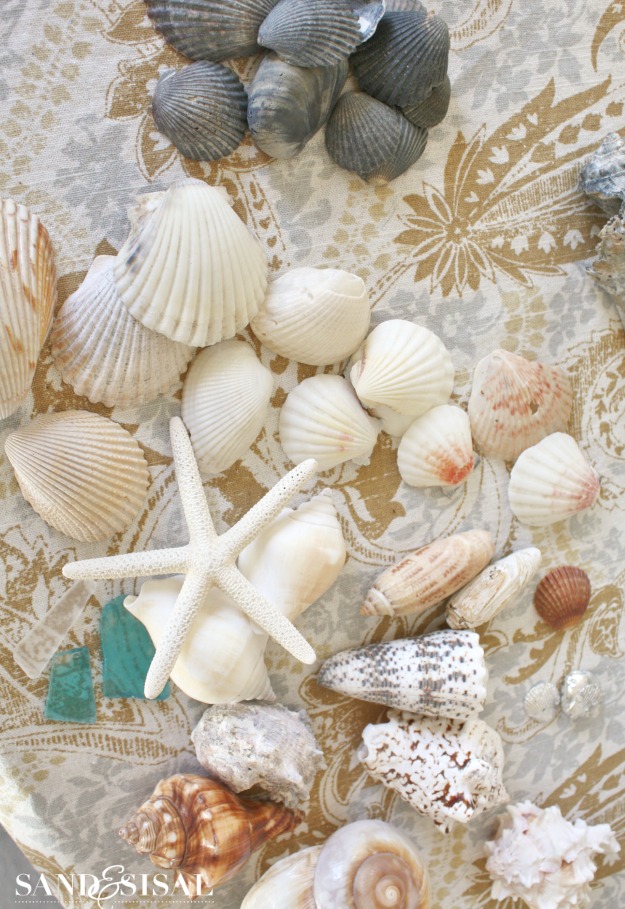 Time to assemble the jars! After filling them with a bit of sand then nestle one or two succulents (in thier pots) into the sand. Press the pots deep into the sand until it almost reaches the top of the pot. Some things to consider is the size of your succulents and the size of the opening of the apothecary jar. Use larger succulents in the wider mouth jars and smaller succulents in the more narrow mouthed jars. You will want to be able to remove them from time to time for watering, etc.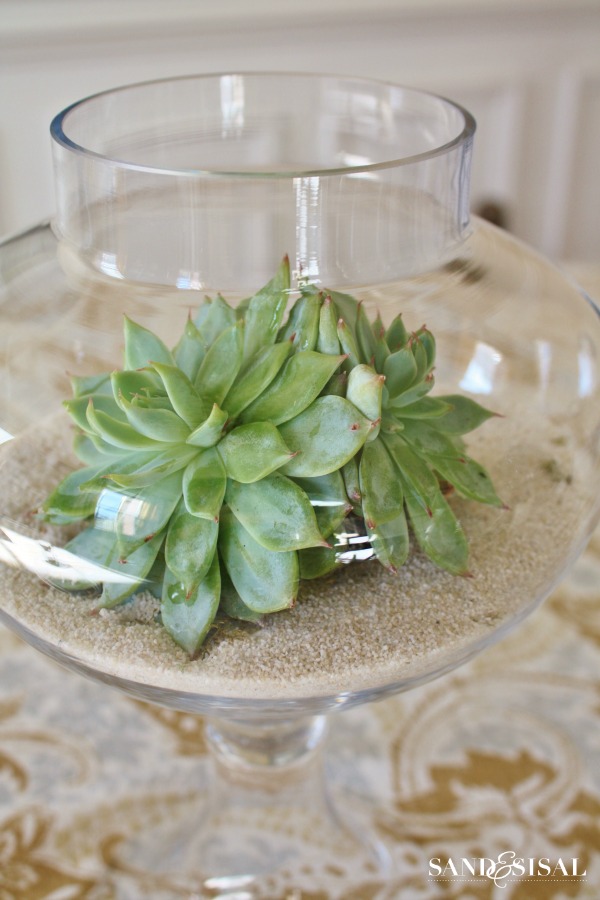 Tuck in some pieces of green moss around the succulent pot. This hides the pot and dirt, and adds nice texture and appearance.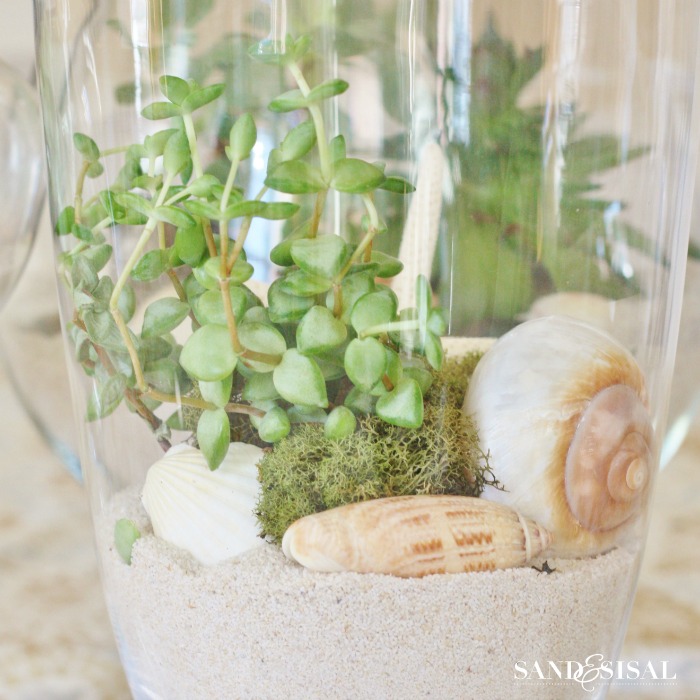 Then lastly just add a few Sea shells to the jars. Add as many or as little as you like.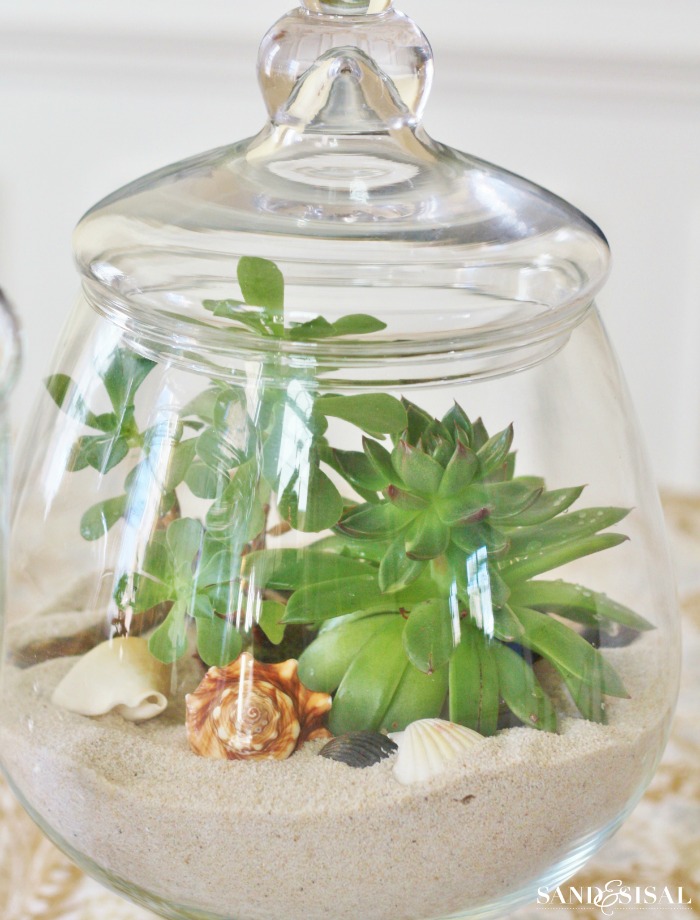 I like grouping the jars together for a pretty succulent garden display.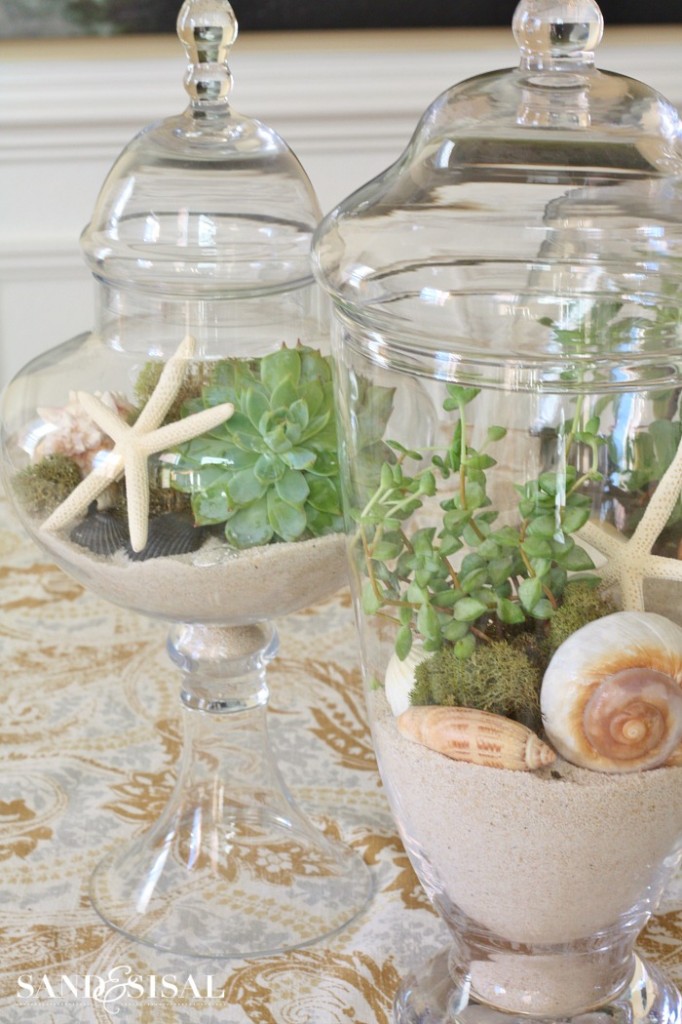 It is super easy and beautiful! I know you will enjoy growing succulents in the chic coastal style as much as I do!
Happy Indoor Gardening!
KIM
Here are a few recommend posts also:
Succulent Gardening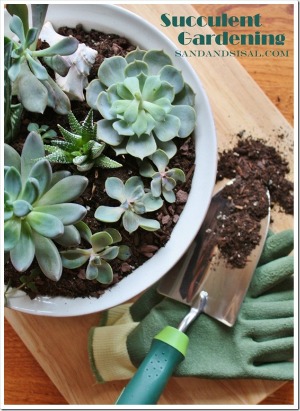 Succulent Wall Hanging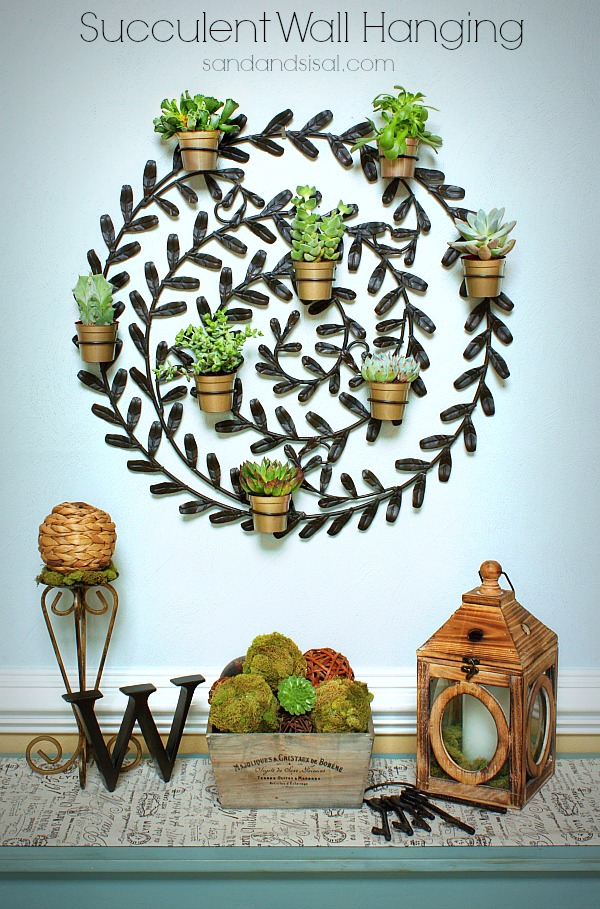 How to Force Tulip Bulbs in Water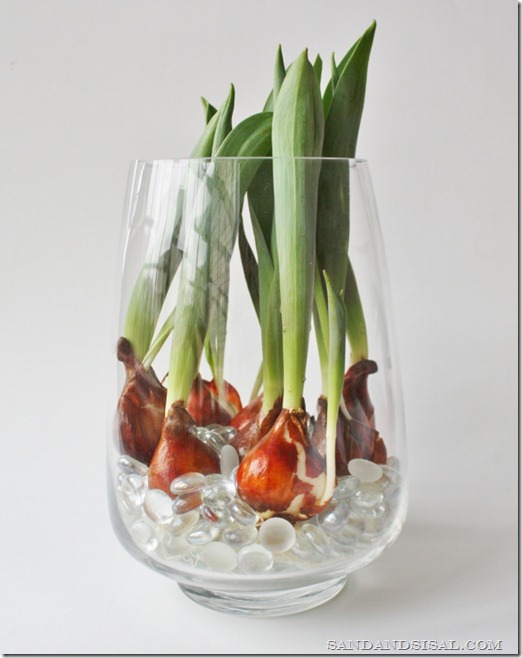 More Gardening Ideas & Resources
---
Article source: http://www.sandandsisal.com/2015/01/growing-succulents.html